For everybody wishing to achieve deeper awareness of their holistic selves, using the voice as a compass towards more well being.
Singing has always been my second nature. Life without it would be unthinkable! I soon realised that my own sound kept me healthy, raised my vibration and cleansed emotional blockages. Allowed me to process quickly through difficult patches in my life. Early on my Audicene began stating that my Sound not only elevated them and brought them joy, but healed them as well. I started exploring with my Voice as my truest companion. I realised that the timbre in my sound awakened a deep awareness in others. Like a magical doorway opened up that reactivated unique Codes within my listeners, consciously or unconsciously. The core of my Sound went into their dissonance and broke down and disrupted blockages and old paradigm. I also realised that my role is not solemnly to clear dissonance in others but also cleanse space. Halls, churches and private space.  I feel very close to the Divine Mother Energy and sing e.g. Ave Marias to connect deeply with the fertile feminine source in concerts. I tune into my Audience by choosing Songs/Arias spontaneously. In very special Healing Concerts I improvise and sing songs A cappella. Only by allowing myself to step out of the Classical Box did I manage to unleash my own magical Sound.  I am ready to serve you with my Sound!
Reactivate the Codes to your unique genius and treasure within through Sound!
YouTube
Meet me on my Youtube channel where you find a variety of inspirations such as interviews, awareness checks and insights to name just few. In almost every week there is a gold nugget for you!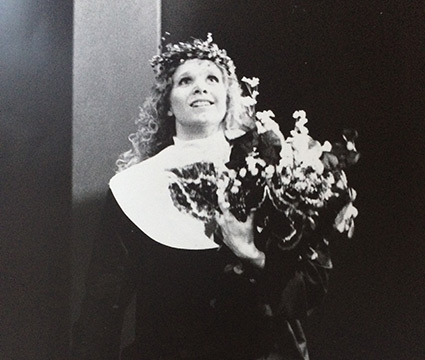 Bridging the classical world of Opera with the Spiritual world.
Sound is so incredibly powerful! For spreading joy, healing and raising your vibration. When you achieve making a sound in perfect balance of breath and tone, the tone brilliance can bring about huge changes within you and others. My aim is to guide you, a Singer or Non-Singer, to become sufficient and self reliable with your own Voice. Be your own Master. To be aware of your own holistic self and learn how to work with your unique energy through your Sound. The voice never lies!
Get your VOICE ANALYSIS for your Speaking and Singing!
Yesterday evening I went to Sólrún's Soundhealing and what an Experience. I would never believed that it would have such a strong effect. We were 8 with Sólrún and sat together in a circle. First she guided us through a deep meditation and while we were in this relaxed state of being she begun singing. And what singing that was! I got goosebumps and my tears were running down my cheeks. She sang specially for every individual and also for Everyone. She either stood in of front of each one or behind and in the middle while our eyes were closed and our senses were on high alert. I have no words to explain the effect her sang had on me - but it felt really good. There is a long time since I have slept so well as the night afterwards. Thank you my dear Sólrún Bragadóttir.
Thank you for a beautiful and a unique concert with elements of play in a more free form. It was wonderful to see you and feel your youthful expression. I had big experiences during the concert. One was at the end of one of the first piece. You brought my whole cranium into a vibration and the space around my heart started resonating. Also in all the holes in my head. You cleansed them all! The other experience I had was that I was totally in sync with you energy wise and in sound. I knew exactly how the next tone would sound. If I could sing I would have been able to sing a duet with you through the whole concert. So this was a real connection between us. I am curious to know if others also felt this. I actually believe so!
Dearest Sóla, thank you for your amazing singing! It was a very intense experience for me. Your voice brought my whole inder being to vibrate. It felt like a part of my armor disappeared and my heart dared to open up more. The pressure in my chest that I have had for a while got transformed into gratitude and love while you were singing, Thank you and a big hug to you.
Many years of exploration of the world of voice makes Sóla Braga a unique teacher. She is powerful and a sensitive singer that has been fortunate to be able to develop her own voice and herself that is mirroring in her artistry. Several years ago I enjoyed her guidance along with other voice students and since then I have been fortunate to participate in other workshops she has been teaching. The healing power of music has always been an inspiration to me and I find Sóla's method that she has been developing through the years, magical in the way she guides people to use the power of deep breathing and the purity of tone to strengthen and connect to their bodies and souls.
Private Sessions for Singers and "Non Singers" for 6, 8 or 12 weeks.
Book a free 30 min. Calendly session to find out more!
For 6 - 8 participants. Can also be in a home or a small hall. You can book your own Event!
NEW! Also available as a Private Session!

For further information or to book an event
New! Voice Empowering Energy Container Units!
Each Unit starts as soon as there are gathered 6 participants. Write to Solrunvoicediva@gmail.com to sign up!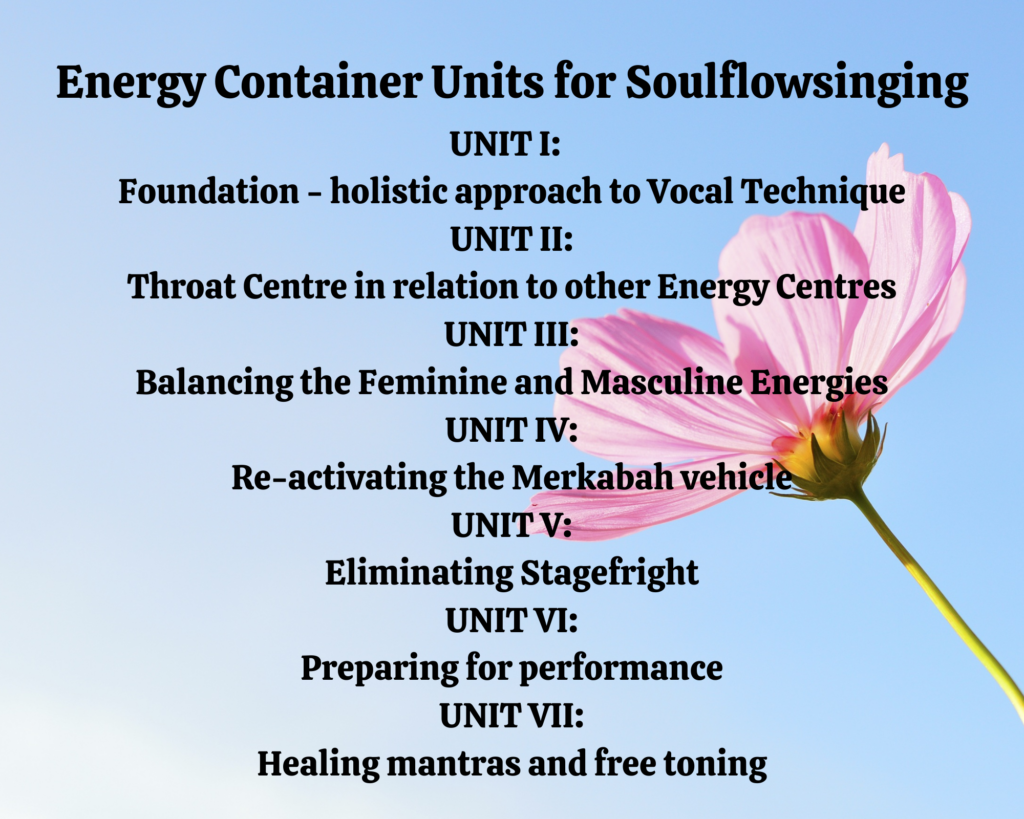 CHRYSALIS - Retreats and Online Modules
Tailor made Individual Retreat in Terra Selvatica in Umbria, Italy.
Free Group Session in German on the 15th of March! Healing of the Ancestral Wounding.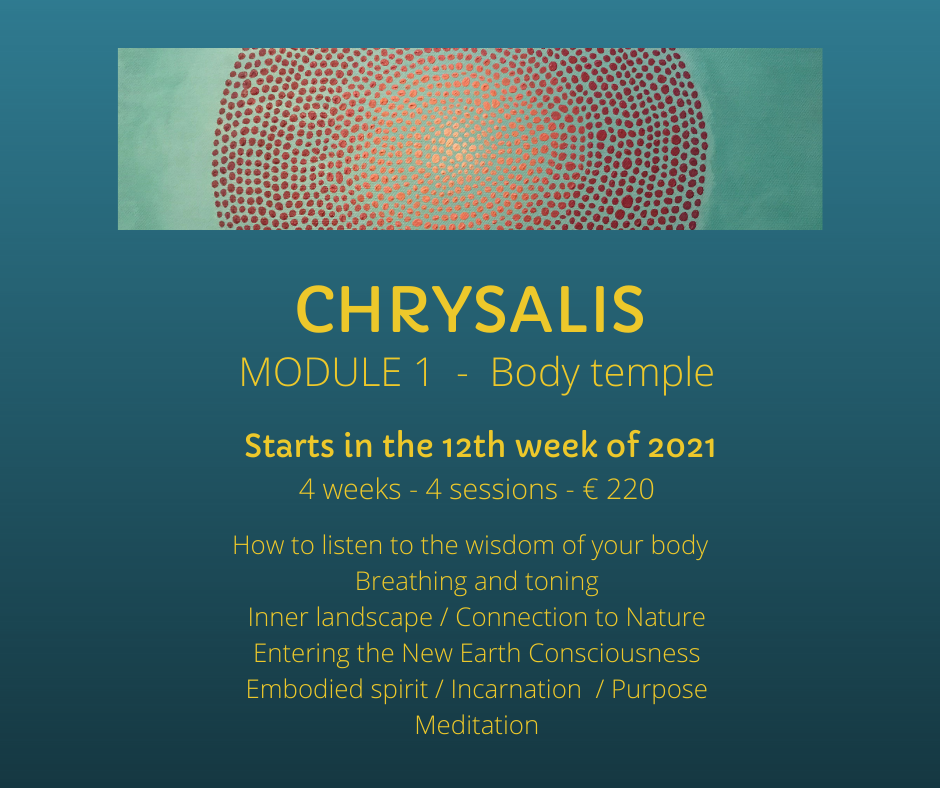 Chrysalis is a stage of the metamorphosis where growth and differentiation occurs. It is a phase with little movement and concentration to the innermost core. To the divine being. Source. Creation. It is the stillpoint where New Life takes form. It is the space of complete surrender to the Highest and a commitment to the New to come.