The sessions are thought for both singers and non-singers and are tailor made for each individuals needs. It can be in person, when the opportunity is there, or on-line. You can choose between 6, 8 or 12 weeks process. You can book a single session with me to feel into the way I guide as well. When we work together I always couple the guidance to a Facebook group platform, specially for you, that I call a Private Energy Container. That way I we can keep the energy flowing and I hold your hand, so to speak, through the process. I post all kinds of material to support your process and you can post audios and videos with your singing or process with exercises, get feedback and ask questions.
Before the session I send out a questionnaire so that I can scan the individual needs and save us time. I also ask for recordings of both your speaking and singing voice so that I can read your unique signature in your voice.

Each session is usually an hour but the first one is ca. 1 1/2 hours.
Write to Solrunvoicediva@gmail.com to book time. I also offer 30 min. free chat that you can book here: https://calendly.com/solabraga1/30min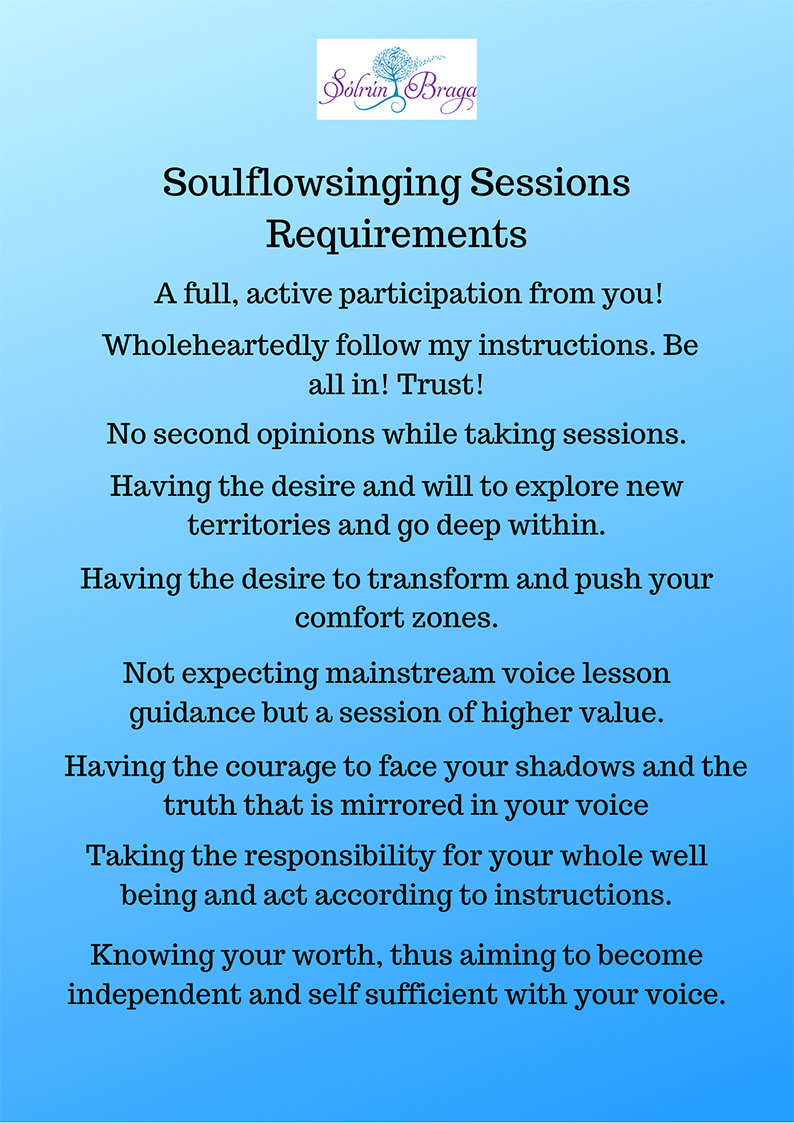 Voice Empowering Energy Container Units, Online.
Online Group sessions are for smaller groups of min. 4  and max. 6 participants. They are build up in Units whereas it is necessary for a participant to take the first Unit, which is focused on the foundation, the Vocal Technique, that we approach holistically. In the first unit there are 2 private sessions included of 40 min. each.
Energy Container Unit I:
Vocal technique, Awareness checks and Alignments.
Energy Container Unit II:
Working with the Throat Centre in connection with the Energy Centres and the Violet Flame.
Energy Container Unit III:
Working with the Feminine and Masculine Energies
Energy Container Unit IV:
Learning the special method of reactivating your Merkabah
Energy Container Unit V:
Eliminating Stage Fright: (preferably take Unit IV first)
Energy Container Unit VI: (for Singers)
Working on repertoire and preparations for performance
Energy Container Unit VII:
Working on healing mantras and more free expression of toning.
CHRYSALIS Retreat in Umbria
In the Summer 2021 Patricia Rudmann Stucki and I are offering Individually tailor made Retreats at Terra Selvatica in Umbria, Italy. You can read more about the CHRYSALIS project here: https://chrysalis-metamorphosis.jimdosite.com/
I offer my special approach to a Vocal Technique for Choirs. I work the choir as a whole and introduce the method and then divide the choir into groups according to their voice grouping and work with each of them seperately. Can be done in a regular Choir meeting where 1/4 of the group is working with me while the rest of the choir works with their Choir Conductor.
A woman from a choir I was teaching in small group sessions was one of many that realized this magical approach.
Ólína Kjerúlf Þorvaldsdóttir wrote:
"Several women from our choir took a group session with Sólrún and it was a wonderful experience. She guided us through basic vocal training, focusing on bodywork and breathing. Initially we had worked with relaxation and meditation in order to increase the awareness with our voices. It was a surprise to everyone, how much impact this part had on the voice, which became so obvious to us when we sang together at the end of the session. This guidance was not only necessary, but also such a fantastic experience."
You can order your Soulflowsinging Workshop!
The workshop is based around a holistic approach to singing for everybody – so called non-singers as well or people that have never sung in their lives and would like to get to know their own unique sound.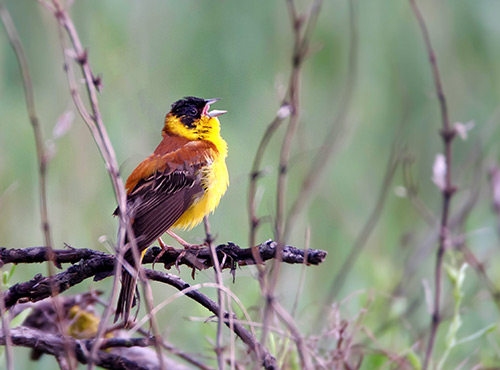 The main focus is to teach the vocal technique, breathing and toning, using meditations, energy work, improvisations, movements, working with masculine and feminine energies, playing, essential oils etc. to create the relaxing group energy in order for the participants to ease the opening into the world of sound and joy. The attention is both on individuals and the group in order to get the best result for each one. We do healing work at the end of the day. The longer the workshop is the more detailed work with emotional healing work, individual singing and sound choirs.
The workshop can be one day, a weekend, a week (see Retreat) and is either scheduled by myself or can be ordered.
Let the soul express itself through your being and become its faithful servant.